A deep low centered over South Texas has dumped substantial rainfall over portions of Texas and Louisiana, while generating prolonged onshore winds and storm surge that has led to minor coastal flooding. As heavy rains continue today, this storm may showcase the combined effect of a heavy rain event coupled with a prolonged storm surge.
This storm was forecast to dump more than 10" (25 cm) of rain in some areas, as it pulls persistent bands of rain off the Gulf Coast. NOAA's 2-day QPF map issued Tuesday morning forecast 5-10" (12-25 cm) of rain from Tuesday- Thursday morning over portions of eastern Texas and western Louisiana.
Eastern Texas and Western Louisiana.
Coastal flooding was already starting late Tuesday afternoon along the Texas Coast near the junction of Hwy 124 and 87, south of Winnie, according to Galveston County's Office of Emergency Management (@galvcountyoem). Such flooding was accurately forecasted by the Houston-Galveston National Weather Service office, as Tuesday was the second consecutive day with strong onshore winds.
Coastal flooding was starting by Tuesday afternoon, according to Galveston County's Office of Emergency Management @galvcountyoem.
I went to this site this morning (Wed Mar 9) to document conditions on "Day 3" of this onshore wind event. Water was still washing over the seawall, but not as much as yesterday. No water was over Hwy 87 from Hwy 124 to the Ferry.
Some water was washing over the seawall at TX Hwy 87 and 124 this morning, but not as much as yesterday. Photo: Hal Needham
There was evidence that seawater had washed onto Hwy 87 earlier this morning, probably around the pre-dawn high tide. But by 7:00AM the water had receded. Photo: Hal Needham
Chaotic waves are common at Rollover Pass. Rough seas in the area this morning pushed waves over a wall near the TX Hwy 87 bridge. There was no standing water over the roadway.
Photo: Hal Needham
By late Tuesday afternoon, water levels at the north jetty of Galveston Bay were already around 1.3 ft above normal and rising, according to a NOAA tide gauge at that site. The strongest winds, and highest surge levels, were forecast for Tuesday night and early Wednesday morning, as the Houston-Galveston National Weather Service forecasted tide levels could exceed 3 ft (0.91 m) above normal at the height of the storm.
Strong onshore winds had already elevated the water level near the entrance of Galveston Bay around 1.3 ft above normal,as of late afternoon Tuesday. This graph depicts observed (red) and predicted (blue) water levels at NOAA's Galveston Bay Entrance North Jetty tide gauge.
The flood threat may be particularly high in coastal towns, where a prolonged storm surge will slow the drainage of heavy rain. Such drainage depends on sloping ground; the greater the slope the faster rainfall drains. Prolonged storm surges reduce this land to sea slope, and slow drainage, exacerbating flooding even well inland.
This scenario played out twice in 2012, as Tropical Storm Debby flooded Tampa, Florida, with a combined storm surge/ heavy rain event in June, and Hurricane Isaac followed with a similar event in Louisiana, in August. Isaac's flooding was more severe and impacted more people, as thousands north and west of New Orleans were forced to evacuate after torrential rain could not drain efficiently into the surge-elevated Lake Pontchartrain.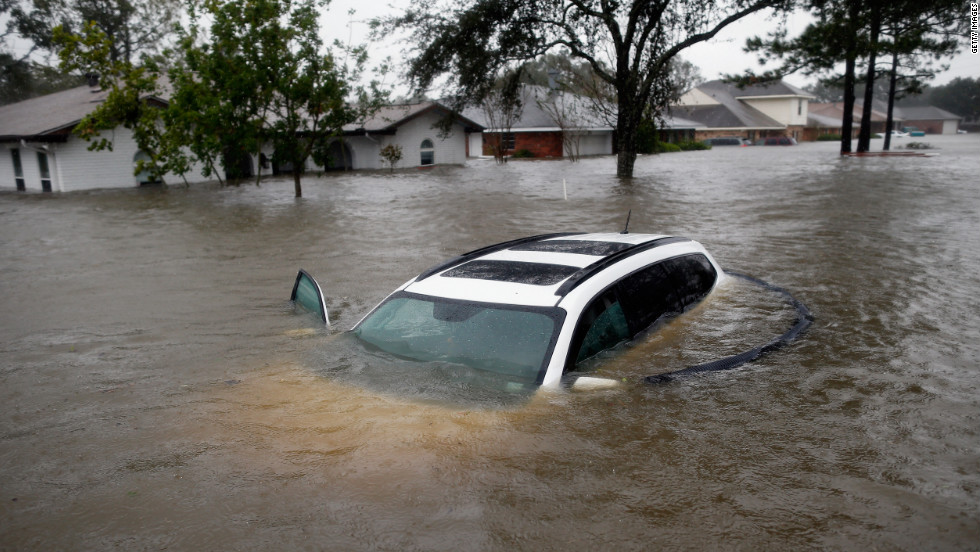 Combined heavy rainfall and storm surge flooded thousands of homes in Louisiana, during Hurricane Isaac, in 2012. This event flooded areas near Lake Pontchartrain that did not flood in Hurricane Katrina. Image courtesy CNN.
A
Nature Climate Change article
published in 2015 found that compound rain-surge events are increasing for many major U.S. cities, in part due to sea level rise. In the publication,
Dr. Thomas Wahl
and colleagues also found that such events are more common in the U.S. along Atlantic and Gulf Coasts than the Pacific Coast.
The authors mention that the combined effect of heavy rain and storm surge produces higher magnitude floods than either of the hazards occurring separately. This is an observation for which coastal urban areas should prepare, as rising seas enhance storm tide levels and reduce the rate of rainfall drainage.